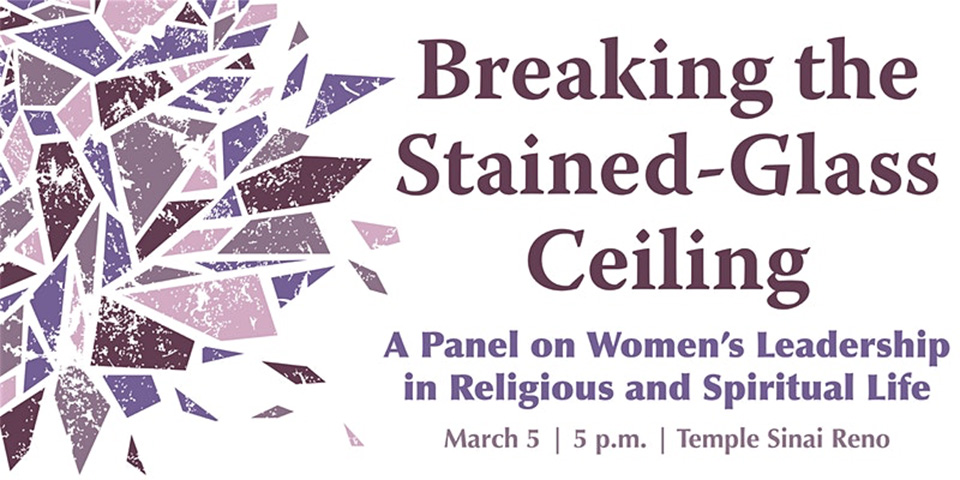 Breaking the Stained-Glass Ceiling
5:00 pm Thursday, March 5, 2020
Join leaders from Northern Nevada's diverse faith communities to explore the impact of women's inclusion in or exclusion from prayer, practice and positions of power. Presented by the Temple Sinai Library Committee and co-sponsored by:
The Northern Nevada Women's Leadership Initiative
The College of Liberal Arts and School of Social Research and Justice Studies, Department of Communication Studies, Department of Sociology at the Gender, Race & Identity Program, Department of History, UNR Police at University of Nevada, Reno
Renown Health
Temple Sinai, Reno
Flanz Writes
The program is funded in part by a grant from Nevada Humanities, and the National Endowment for the Humanities.
Moderator:
Dr. Erin Stiles, associate professor at the University of Nevada, Reno, Graduate Program Director for the Department of Anthropology.
Panelists:
Terri Domitrovich, Associate Chaplain at Renown Health, Interfaith Seminarian at The Chaplaincy Institute, Berkeley, Practicing Catholic Christian and a new member of the Reno Buddhist Center.
Dr. Dina A. Elsabrawy, Northern Nevada Muslim Community
Rev. Shelley Fisher, Resident Priest, Reno Buddhist Center
Patricia Meidell, Director of Public Affairs for The Church of Jesus Christ of Latter-Day Saints and President of the Nevada Interfaith Association
Rabbi Sara Zober, Temple Sinai, Reno
RSVPs are required for this free event.
For complete event details and reservations: CLICK HERE