Being Jewish in the Time of Covid:
Reflections from Congregants of Temple Sinai Reno
Life as we knew it was normal.
Then life as we knew it changed.
What did change look like?
In 2020, the Temple Sinai Library Committee requested that Temple Sinai members submit their personal stories, memoirs, and poetry pertaining to Jewish life experiences while living through the COVID-19 pandemic. "Being Jewish in the Time of COVID" is a collection of these reflections.
Season Three of Beyond Words, the Temple Sinai Library Committee Book Club, is led by Facilitator Lynda Goldman, Coordinator, Heidi Slater, and Administrator, Jill Flanzraich. It seeks to build a learning community by engaging participants in conversations that focus on fiction and non-fiction books that are Jewish-themed and/or written by Jewish authors.
The theme for Season Three is Evolving Jewish Identity: How Our Past Shapes Our Present. We will be looking at how we are adapting to modern life, post-Holocaust.
Registration is required for this bi-monthly virtual book club which is for readers 18 or over. Participation is free for Temple Sinai members, committee members, staff, and faculty. Non-members are welcome to register with an $18.00 annual donation to the Temple Sinai Library Fund.
Register by Wednesday, May 11th to attend the Orientation and Kick-Off Event.
Once you have completed the registration, you will receive additional information including COVID protocols.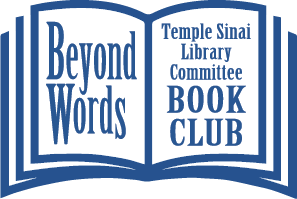 Kick-Off Event and New Member Orientation: Wednesday, May 18th, 7:00-8:00 pm
Open to registered Beyond Word members, only. This hybrid session will be in person in the Sinai Main Library and via Zoom.

Session #1:

Wednesday, June 1, 2022, 7:00 pm – 8:30 pm (via Zoom)
The Finkler Question by Howard Jacobson (Contemporary Fiction)
Session #2: Wednesday, August 3, 2022, 7:00 pm – 8:30 pm (via Zoom)
Suddenly, a Knock at the Door by Etgar Keret (Short Stories)
Session #3: Wednesday, October 19, 2022, 7:00 pm – 8:30 pm (via Zoom)
Stranger in My Own Country: A Jewish Family in Modern Germany by Yascha Mounk (Memoir/Sociology)
Session #4: Wednesday, December 14, 2022, 7:00 pm – 8:30 pm (via Zoom)
People Love Dead Jews: Reports from a Haunted Present by Dara Horn (Essays)
Session #5: Wednesday, February 1, 2023, 7:00 pm – 8:30 pm (via Zoom)
House on Endless Waters by Emuna Elon (Historical Fiction)
Session #6: Wednesday, April 19, 2023, 7:00 pm – 8:30 pm
(This hybrid session will be in person in the Sinai Main Library and via Zoom.)
Wounds into Wisdom: Healing Intergenerational Trauma (Psychology)
Questions? Email: BeyondWords@SinaiReno.org
Our Synagogue's Main and Youth Libraries offer more than 2,600 titles and additional media
With more than 2,600 books, comfortable seating and free Wi-Fi, Temple Sinai's libraries offer synagogue members a new place to gather and learn.
Thanks to the ongoing commitment and hard work of the Library Committee and the generosity of supporters, both the Main and Youth libraries feature reorganized and rejuvenated collections.
In the Main Library, visitors can find more than 2,000 books, including fiction, non-fiction, pictorial and reference volumes. The library also features a growing collection of digital media including DVDs and Blu-Rays.
Temple Sinai's younger members can gather in the newly-created Youth Library, which includes more than 600 fiction, non-fiction, pictorial and reference books. The room also features a multi-media learning station, comfortable seating and educational toys.
Both libraries are open during normal Temple Sinai hours. All Temple Sinai members can check out books to take home with a simple, convenient barcode system.
If you would like to help the libraries continue to flourish volunteering on the library committee only requires a few hours of commitment each month and the results are measureless to the Temple Sinai community. CLICK HERE to message us and become a volunteer.
If you want to support reading, literacy and education consider giving an in-kind or monetary donation to the designated Library Fund. To donate an in-kind gift, CLICK HERE and message us to find out if your book or DVD donations meet the library criteria.
To make a donation to the Temple Sinai Library Fund, CLICK HERE. Be sure to choose "Library Fund" in the donation options. Or, you can email the synagogue office for more information.

Visit www.amazon.com to view the Temple Sinai Library Wish Lists where you can use your Amazon points or charge a purchase to donate preferred items for both the Youth and Main Libraries. If you'd like to see items added to the wish lists CLICK HERE and send us a message with any titles.
The Youth Library offers books, educational toys, and even a multi-media center plus lots of fun, comfortable seating.
The Main Library also provides a perfect environment for classes and meetings. Seen here is the Talmud Study Group.
TIKKUN OLAM: Help to repair our corner of the world by donating books and magazines to the Northern Nevada Literacy Council. All topics, ages and genres are welcome, as are hardcover and paperback books.
Front row left to right: Amelia Currier, Heidi Slater, Annie Flanzraich, Jill Flanzraich, Councilwoman Naomi Duerr, Talia Guzman, Maia Polovny, Temple Sinai President Marilyn Rappaport.
Second row left to right: Ellen Lessinger, Rabbi Ethan Bair.