Our Synagogue's Main and Youth Libraries offer more than 2,600 titles and additional media
With more than 2,600 books, comfortable seating and free Wi-Fi, Temple Sinai's libraries offer synagogue members a new place to gather and learn.
Thanks to the ongoing commitment and hard work of the Library Committee and the generosity of supporters, both the Main and Youth libraries feature reorganized and rejuvenated collections.
In the Main Library, visitors can find more than 2,000 books, including fiction, non-fiction, pictorial and reference volumes. The library also features a growing collection of digital media including DVDs and Blu-Rays.
Temple Sinai's younger members can gather in the newly-created Youth Library, which includes more than 600 fiction, non-fiction, pictorial and reference books. The room also features a multi-media learning station, comfortable seating and educational toys.
Both libraries are open during normal Temple Sinai hours. All Temple Sinai members can check out books to take home with a simple, convenient barcode system.
If you would like to help the libraries continue to flourish volunteering on the library committee only requires a few hours of commitment each month and the results are measureless to the Temple Sinai community. CLICK HERE to message us and become a volunteer.
If you want to support reading, literacy and education consider giving an in-kind or monetary donation to the designated Library Fund. To donate an in-kind gift, CLICK HERE and message us to find out if your book or DVD donations meet the library criteria.
To make a donation to the Temple Sinai Library Fund, CLICK HERE. Be sure to choose "Library Fund" in the donation options. Or, you can email the synagogue office for more information.

Visit www.amazon.com to view the Temple Sinai Library Wish Lists where you can use your Amazon points or charge a purchase to donate preferred items for both the Youth and Main Libraries. If you'd like to see items added to the wish lists CLICK HERE and send us a message with any titles.
The Youth Library offers books, educational toys, and even a multi-media center plus lots of fun, comfortable seating.
The Main Library also provides a perfect environment for classes and meetings. Seen here is the Talmud Study Group.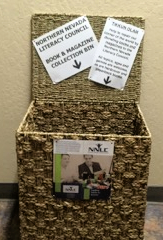 TIKKUN OLAM: Help to repair our corner of the world by donating books and magazines to the Northern Nevada Literacy Council. All topics, ages and genres are welcome, as are hardcover and paperback books.

Front row left to right: Amelia Currier, Heidi Slater, Annie Flanzraich, Jill Flanzraich, Councilwoman Naomi Duerr, Talia Guzman, Maia Polovny, Temple Sinai President Marilyn Rappaport.
Second row left to right: Ellen Lessinger, Rabbi Ethan Bair.