"Judaism is not a religion of individual souls but that of a people…. In Judaism it is not only the individual who confronts God; the people as a people is committed to living in such confrontation. As it lives as a people in the presence of God, so it turns to God in prayer as a people."

~Rabbi Eliezer Berkovits
Jewish Practice encompasses all times, as individuals and as a community, that we practice the traditions of our people. As both our most important and most frequent holiday, Shabbat is the cornerstone of Jewish practice. Below you will find the complete schedule of Shabbat services at the Temple, as well as a Shabbat blessings guide for your practice at home. You will also find a link to the melodies of Shabbat prayers we most commonly sing at Temple Sinai. In addition to celebrating Shabbat as a community each week, we also live by the rhythm of the Jewish calendar that brings meaning and embodied Jewish values into every season of the year.
To learn more about the Jewish calendar of holidays, please click here.
We hope to welcome you to a Shabbat or holiday celebration at Temple Sinai very soon.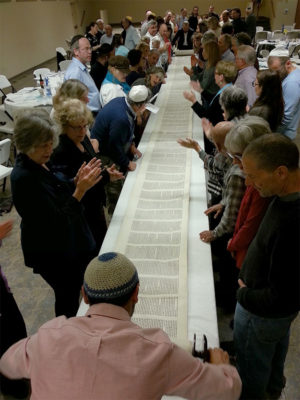 "More than the Jewish people have kept Shabbat, Shabbat has kept the Jewish people."

~Ahad HaAm

Kabbalat Shabbat – 7:30 pm Most Fridays

Every week we hold a Kabbalat Shabbat service (to welcome the Sabbath) on Friday evening at 7:30 pm.

If you would like to host an Oneg Shabbat for one of these Fridays to celebrate a special event in your life with the community, click the button below or call the Temple office at 747-5508.