"Judaism is not a religion of individual souls but that of a people…. In Judaism it is not only the individual who confronts God; the people as a people is committed to living in such confrontation. As it lives as a people in the presence of God, so it turns to God in prayer as a people."

~Rabbi Eliezer Berkovits
Jewish Practice encompasses all times, as individuals and as a community, that we practice the traditions of our people. As both our most important and most frequent holiday, Shabbat is the cornerstone of Jewish practice. Below you will find the complete schedule of Shabbat services at the Temple, as well as a Shabbat blessings guide for your practice at home. You will also find a link to the melodies of Shabbat prayers we most commonly sing at Temple Sinai. In addition to celebrating Shabbat as a community each week, we also live by the rhythm of the Jewish calendar that brings meaning and embodied Jewish values into every season of the year.
To learn more about the Jewish calendar of holidays, please click here.
We hope to welcome you to a Shabbat or holiday celebration at Temple Sinai very soon.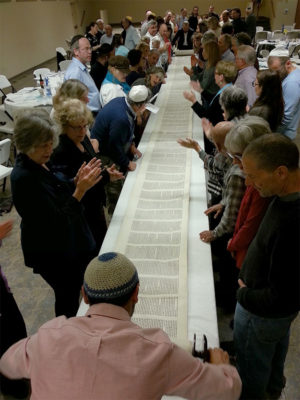 "More than the Jewish people have kept Shabbat, Shabbat has kept the Jewish people."

~Ahad HaAm

Kabbalat Shabbat – 7:30 pm Most Fridays

Every week we hold a Kabbalat Shabbat service (to welcome the Sabbath) on Friday evening at 7:30 pm.

If you would like to host an Oneg Shabbat for one of these Fridays to celebrate a special event in your life with the community, click the button below or call the Temple office at 747-5508.

Tot Shabbat – 5:30 pm First Friday Monthly

On the First Friday of every month, there is a Tot Shabbat Service and Shabbat Potluck dinner for families with small children (although everyone is welcome). It is a shorter service with a story for children. There is an email invitation sent out each month for the Potluck dinner. To add your name to this email invitation list, click here to send an email and put "Add to Tot Shabbat List" in the message field. 

Saturday Shabbat Service & Torah Study – First & Third Saturdays Monthly

On the 1st and 3rd Shabbat of every month, we hold a Shacharit (Morning) Shabbat service at 9:30 am Then, from 10:30 am – 12:00 pm we study the parshat hashavua, the Torah portion assigned to that Shabbat and the rest of the week to come.

You may attend both the service and the study, or just one of the two! No RSVP necessary. It has become a lovely, warm and thoughtful community of folks who pray and study together and we are very welcoming of all who wish to join us!

We celebrate all major (and most minor) Jewish holidays as a community, including:

Rosh HaShanah, Yom Kippur, Sukkot, Simchat Torah, Chanukah, Tu B'shevat, Purim, Passover, Shavuot, and Tisha B'Av

We hold Family Days in our Sinai School for each holiday throughout the year and together, we bring the rhythm and meaning of the Jewish calendar into our personal and communal lives.

Click below to listen to and/or download recordings of the Shabbat prayers. You can also view the text of the prayers as you listen to them.

Please be patient when you click below. The Prayers page may take some time to load.