We celebrate all major (and most minor) Jewish holidays as a community, including:
Rosh HaShanah, Yom Kippur, Sukkot, Simchat Torah, Chanukah, Tu B'shevat, Purim, Passover, Shavuot, and Tisha B'Av
We hold Family Days in our Sinai School for each holiday throughout the year and together, we bring the rhythm and meaning of the Jewish calendar into our personal and communal lives.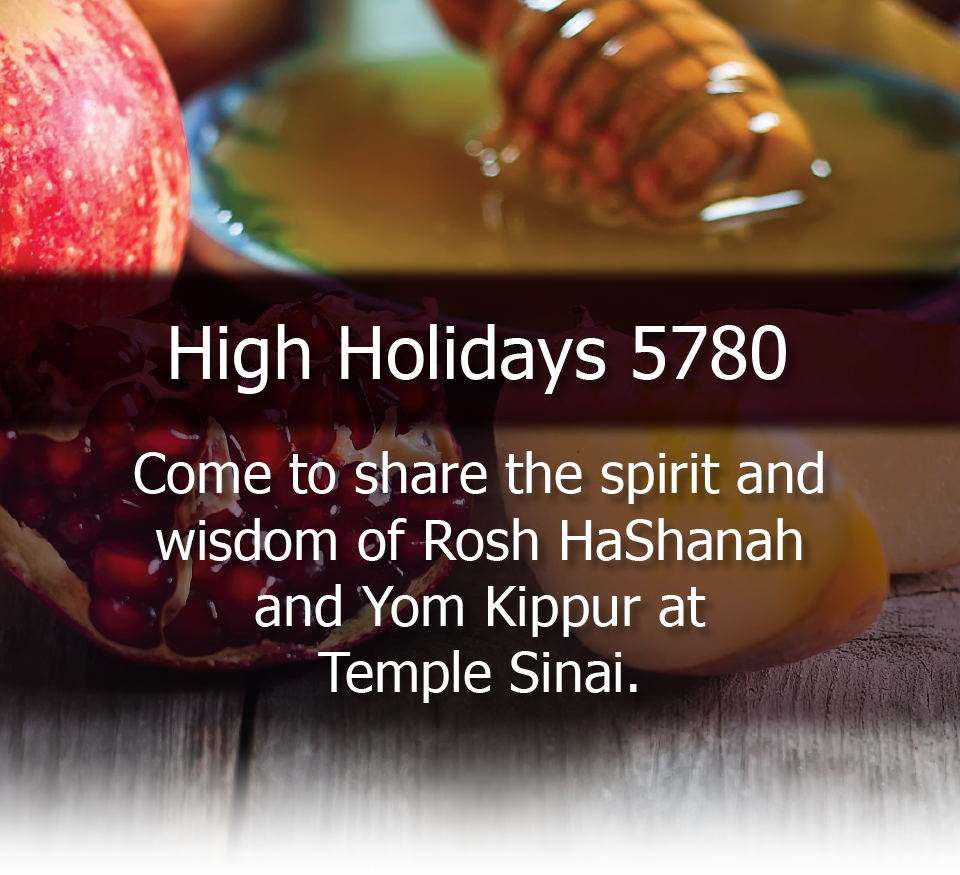 These Holidays are a time of prayer, music, reflection, and learning. Come and join our congregational family for a spiritually deep High Holiday experience!
NEW SECURITY MEASURE IN PLACE:

Temple Sinai wants to welcome all members and guests to our High Holy Day Services. We also want to make sure that our security guards can keep us safe. To that end, we are implementing "High Holiday Nametags" for both members and guests to Sinai. If you are a member, your High Holiday Nametag will be automatically available at the door to services. If you are a guest (or your member information has changed), please use the form below to tell us you will be joining us.

To have the names of departed loved ones read during Yizkor on Yom Kippur, a digital or physical memorial card must be completed and returned NO LATER THAN THE END OF ROSH HASHANAH (Tuesday, October 1).

CLICK HERE to submit memorial names.

Donate for the High Holidays online with your credit card or PayPal account. You don't have to actually have a PayPal account to donate this way. You can use your credit card instead during the PayPal checkout.

CLICK TO DONATE FOR THE HIGH HOLIDAYS

Please join us for Yom Kippur Break-the-Fast on Wednesday, October 9, 2019. Everyone is welcome!

Once again we will be using SignUp.com to help us organize our upcoming Break-the-Fast celebration. Here's how it works in 3 easy steps:

Click this link to see our SignUp on SignUp.com: https://signup.com/go/PVNqHZG
Review the options listed and choose the spot(s) you like.
Sign up! It's Easy – you will NOT need to register an account or keep a password on SignUp.com.

Note: SignUp.com does not share your email address with anyone. If you prefer not to use your email address, please contact Sisterhood president, Pam Sloan, at psloan55@charter.net and she can sign you up manually.

Saturday, September 21
at 8:00 pm

S'lichot (singular, s'licha) are prayers or liturgical poems that inspire teshuva, repentance. As a kind of High Holy Days "warm-up," S'lichot services are traditionally held at midnight on the Saturday night prior to Rosh HaShanah, except when Erev Rosh HaShanah falls on a Sunday. Join us for a special evening of study, prayer, meditation, and reflection, (earlier than midnight!).

Memorial Service
Sunday, October 6 at 2:00 pm

It is traditional to visit the graves of our loved ones between Rosh HaShanah and Yom Kippur. Temple Emanu-El, Temple Beth Or, and Temple Sinai are co-sponsoring a Community Memorial Service at the Hebrew Cemetery.

Our annual High Holidays Food Drive takes place from Sunday, September 15, through Sunday, October 20. Please be generous, particularly with offerings of high-protein items – canned meats, tuna, peanut butter, etc. – and baby food. All food collected will be donated to the Food Bank of Northern Nevada. Please fulfill this mitzvah by bringing a grocery bag for the needy with you to services, be it on the day of your Yom Kippur fast or any other during the High Holy Day season.

Help fill the Colt Closet donation bins at the synagogue during High Holiday Services. Supervised by fellow Sinai member, Rina Schumer, the Colt Closet is a confidential and safe space where students in need can obtain necessities.

This year, they are specifically requesting: backpacks, school supplies, microwavable food, and non-perishable snacks (no clothes, please!). Please help by donating! 

By official policy of the Washoe County School District, there should not be a problem with your child(ren) missing school for the Jewish High Holidays. They are also to be allowed to make up exams or other work. Should you experience any difficulty with your child(ren)'s school or teacher(s), contact the Temple office at 747-5508 or the Washoe Country School Superintendent. (Similar policies and procedures should be in place in other school districts as well.) So bring your students to shul on Rosh HaShanah and Yom Kippur!