"Rabbi Elazar said Rabbi Hanina said: Torah scholars increase peace in the world, as it is said: 'And all your children [banayich] shall be taught of Adonai, and great shall be the peace of your children.' (Isa. 54:13) Do not read your children [banayich], but your builders [bonayich]."

~Talmud Brakhot 64a
The value of teaching Torah l'dor vador, from generation to generation, means that parents, teachers and the rabbi are partners in the Jewish education of our children. Sinai School exists to teach the next generation Jewish values and the relevance of Torah, (Jewish teachings), Avodah (prayer) and gemilut chasadim (deeds of loving-kindness). Our classes provide a deeper understanding of Jewish culture and practice for meaningful lives and character development. Sinai School helps build Jewish community among our families and Jewish children while building positive Jewish identity in all our children. Together, we are creating the future builders of the Jewish people.
It begins in Kindergarten and continues through the 7th grade. Meeting on Sunday mornings during the school year, children engage in developmentally-appropriate learning in both Judaism and Hebrew language competencies. The classes are:  K-1st, 2nd-3rd grades, 4th-5th grades, and 6th-7th grades.
Sinai School meets from 9:30 am to 12:30 pm on Sundays, except on certain holiday weekends and school holidays.
New Sinai School Program for the 2020-21 School Year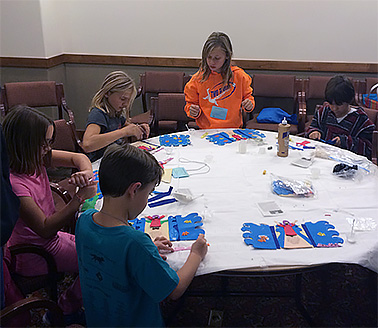 As we look towards the fall, we would like nothing more than to see your kids at Sinai School every week. Given the realities of COVID-19 and our small classrooms, however, that will likely not be possible. We have therefore developed a program that is flexible, engaging, meets our students' diverse needs, and fosters community. This is an experiment – our best thinking to meet the challenges of this time. Read below for an overview of what the next year will look like. If families enjoy this model, we can continue it in various ways into the future. If they miss our previous program, we can return to it once we are able to meet regularly in person again.
Why We Needed to Change Our Approach
For those of you who stuck with us when we transitioned online this past spring, you know how disruptive the stay-at-home orders were to our learning. We were an almost completely analog school thrown into a totally digital environment. We did our best, we teachers and administrators, but many things fell through the cracks – namely our Hebrew language learning, an essential pillar of our Sinai School curriculum. While we saw the benefits of having our whole school together in a one-room digital schoolhouse, our spring curriculum was not adaptable to our new setting. Additionally, the uncertainty we faced with how long we were going to be asked to hold classes from home made us look on this situation as a brief moment in time and not the seismic change in our societal structure it turned out to be.
What Our New Format Will Look Like
Regardless of whether we are in person or digital, the school calendar is set and attached below. We will still meet (mostly) on Sunday mornings. We have one schedule for digital classes and our "normal" schedule for in-person learning. Both schedules are attached below, side-by-side.
Hebrew Language Lessons
Each student will have a weekly Hebrew lesson that will be sent to them on Sunday, to supplement an activity book that we are creating for each Hebrew level. Students can work on their activities at any point during the week (they are self-guided even for our Kindergarteners and only require a parent to hit "start"). Our 2nd through 7th graders will also be able to meet with their Hebrew teacher during the week to ask any questions about their assignments. Then we will meet on Sunday as a class for a shorter Hebrew time to do group activities and review.
A Focus on Family and Community Experiences
Our Judaics program this year will focus on whole-family activities that will turn our students into experts on some of the greatest holidays and values that Judaism has to offer. We will begin to develop fun family traditions and meaningful ways to bring Judaism into your home. Class will be social and fun, with parents being welcome to join us on Sunday mornings or go take some time for themselves depending on their preference.
We hope to have more details to you about the specifics of distance vs in-person learning as soon as we hear from the WCSD what their plans are. Please feel free to be in touch with us with your concerns or questions, and please be in touch immediately if you do not plan on enrolling your student in Sinai School. We need to know so that we can plan for staffing and budgeting purposes. We will be calling if we don't hear from you to make sure that you are aware of our plans.
We hope that you are well, safe, and enjoying this beautiful summer weather. You can always join us on Friday nights at 7:30 pm on Facebook Live or our website (www.sinaireno.org) for services. We'd love to see you there.
L'shalom,
Rabbi Sara Zober
Director, Sinai School