MESSAGES FROM RABBI SARA ZOBER & RABBI BENJAMIN ZOBER
NEWSLETTER ARTICLES FROM OUR RABBIS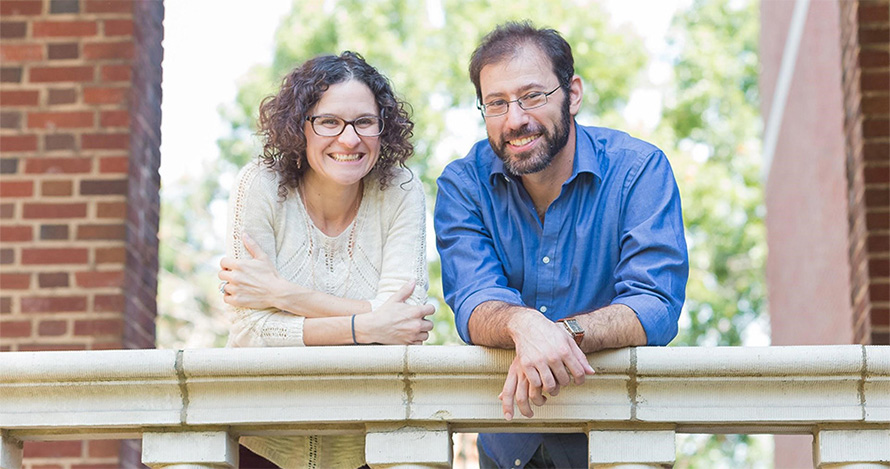 JULY 2018 TO PRESENT
RabbiSara@SinaiReno.org
RabbiBenjamin@SinaiReno.org
Rabbi Sara Zober grew up in Cincinnati, Ohio, but spent her formative Jewish years in Lancaster County, PA. After graduating from Elizabethtown College with a degree in vocal performance and conducting, she converted to Judaism and was offered the position of Cantorial Soloist at Congregation Shaarai Shomayim in Lancaster. She served there for seven years before leaving for her studies at the Hebrew Union College – Jewish Institute of Religion in Jerusalem. While in rabbinical school, she served both Reform and Conservative synagogues from the Dakotas to the Midwest, and participated in the Rabbis Without Borders' student retreat and other interdenominational work. Her studies at HUC focused on the subjects of Jewish ethics and spirituality, and she received her Masters' in Hebrew Letters in 2017. Her rabbinical thesis was entitled "Alei Shur: A Liberal Jewish Commentary on Selections from Rabbi Shlomo Wolbe's Mussar Treatise," and she prepared both the first English translation and commentary on that text. She was ordained in Cincinnati in 2018 and awarded the Ferdinand M. Isserman Prize for the greatest contribution towards community relations by the HUC-JIR faculty.
Rabbi Benjamin Zober grew up in Cleveland, Ohio learning to love winter, doomed sports franchises, and corned beef. After graduating from Brandeis University with a degree in European Cultural Studies and a minor in Near Eastern and Judaic Studies, he returned to Cleveland and earned his J.D. from Cleveland-Marshall College of Law. During his years as a lawyer, he spent time as a public defender, representing death row inmates in capital appeals. Seeking a more proactive approach to helping his community, Rabbi Zober applied to rabbinical school. During his time at Hebrew Union College – Jewish Institute of Religion, he served communities in Michigan, West Virginia, Florida, and Illinois. Committed to social justice, Rabbi Zober served as a Social Justice Fellow in Cincinnati and attended the Religious Action Center's Consultation on Conscience. His rabbinical thesis, "A Light Unto the Nation: 3 Jewish-American Responses to the Holocaust" detailed largely unknown efforts to intervene on behalf of Jews during the Shoah. He was ordained in 2018 and was awarded the Cora Kahn Prize for the graduating senior whose sermon delivery and oratory are considered to be the best. In his spare time (or what remains with rabbinical duties and being a proud step-dad to three wonderful kids) he likes to read, run, and make pop-up books.
As a couple, the Rabbis Zober live and work together, make goals together, and care for each other when they fall short. This is what communities at their best do for all of their members. The Rabbis' hope is to help Temple Sinai nurture a Jewish community in touch with its values, a truly holy community united in its mission and vision for the future.
Rabbi Benjamin Zober Delivered for ACTIONN 10/18/18 Jewish tradition tells a story about the beginning of time, when God started to create the world. God, being the ultimate Being, left no room for heaven and earth. God's Divine Light was put into vessels to make room for Creation, but no vessel could contain God's light […]