PAST ARTICLES AND SERMONS FROM RABBI EMERITA MYRA SOIFER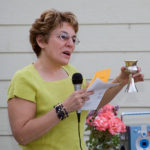 Rabbi Emerita Myra Soifer
AUGUST 1984 TO JUNE 2009
SEPTEMBER 2012 TO JUNE 2013
Email: RabbiMyra@sinaireno.org
Rabbi Emerita Myra Soifer served as Temple Sinai's rabbi for 25 years (from August 1984 through June 2009). Prior to coming to Reno, Rabbi Soifer served as the Assistant Rabbi at Temple Sinai in New Orleans, Louisiana. She was ordained in 1978, by the Hebrew Union College-Jewish Institute of Religion in Cincinnati, Ohio. Rabbi Soifer's activities at Temple Sinai in Reno included services of worship and life cycle, teaching, home and hospital visits, community lectures, and private counseling. She is the author of numerous published articles on a variety of Jewish topics.
Retired on June 30, 2009, Rabbi Soifer retains the title "Rabbi Emerita." She has been granted life-time membership at our Temple.
Rabbi Soifer also came back to Sinai for nine months (September 2012 through June 2013) and provided full rabbinic services during our search for a permanent rabbi. She re-entered retirement on June 30, 2013.
Erev Rosh HaShanah 5773 Temple Sinai, Reno, NV As many of you are aware, the focus of my sermons, this High Holidays, is upon some of the prayers of our Jewish liturgy. Specifically, we'll be looking at the opening prayers of our worship service, that is, the Shema and its surrounding blessings. To do so, […]