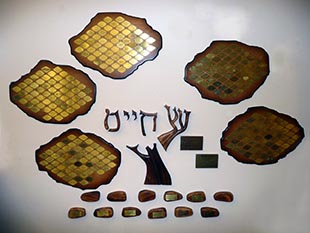 A visible sign of the continuity of our faith…
"It is a tree of life to those who hold fast to it."

~ Proverbs 3:16-18
What better symbol to mark life's special occasions—birthdays, anniversaries, b'nei mitzvah, weddings—the "simchot" of a lifetime?
The Tree of Life featured on the South wall of the sanctuary was hand carved by Temple Sinai's Harry Weinberg, z"l (late husband of Barbara Weinberg) and refashioned through a donation from Dave and Peggy Levine. The tree's branches form the Hebrew words "Eitz Chaim," "Tree of Life," and the twelve stones which lie beneath represent the Twelve Tribes of Israel.
The brass leaves and permanent stones are available for engraving to commemorate joyous events or honor parents, family or friends. Leaves can be purchased for $75 and permanent stones for $500.
Use the form below to dedicate a leaf or stone. The inscriptions require 2-3 weeks for completion. You may use the form below to place your order and make payment.
Sample Tree of Life Inscriptions
These are just suggestions. You will need to limit your message to fit into the following format. Hebrew inscription is not available at this time.
GAVIN CHANDLER
Bar Mitzvah
October 5, 1985
55th
Wedding Anniversary
— September 28, 1985 —
Leon and Margaret
— Winnick —
Aaron Tracy
— Auillard —
Born 24 Adar 5745
Grandson of
Arthur and Martha
— Gould —
Other Order Options
You can still go "old school" and place your order by mail. Click HERE to download an order form for mailing. Send in your order and check, made payable to "Temple Sinai", to Temple Sinai, 3405 Gulling Road, Reno, NV 89503. Please note: if placing order and payment by check/mail, the items will not be engraved until your check is received.