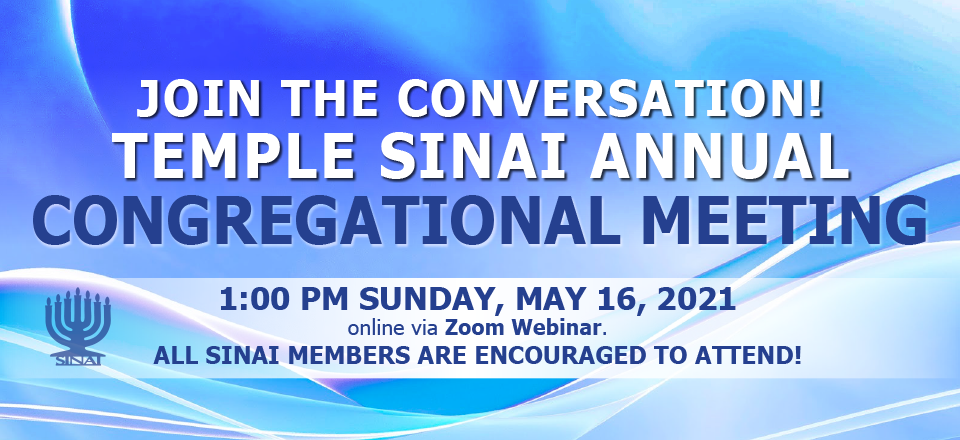 Sinai Annual Congregational Meeting
Online at 11:00 am Sunday, May 16, 2021
Click each section below to expand for complete details.
Register using the form at the end of this page.
Zoom links provided upon registration. Sinai members MUST register to vote at the meeting.
Annual Congregational Meeting

11:00 AM, SUNDAY, MAY 16, 2021

Dear Temple Sinai Members,

I hope to see you at Sinai's Annual Congregational Meeting!

Every year, our Temple President invites all the member families of Temple Sinai to gather for our Annual Congregational Meeting in the synagogue during the month of May or June. This year, our meeting will be Sunday, May 16 at 1:00 pm. Please note that we will hold the meeting this year virtually. Here is the process we will use for the meeting this year:

ALL Temple Sinai members and leadership will join the Annual Congregational Meeting via Zoom webinar. ALL members MUST register to join the meeting and to vote.

During the meeting, we will use Zoom to take a roll call to meet our quorum. The roll call will be checked against our membership list to verify voting eligibility.

When it comes time to vote on the Slate and proposed Bylaws changes, we will use the survey feature of Zoom as the ballot to record our member votes which will be tallied after the meeting is over.

During the Congregational Meeting, the Board will give you the latest update on the financial condition of our synagogue, including a review of the year about to end, our current endeavors and challenges, and our ongoing goals. You will hear about the budget your Board has approved for the next fiscal year which starts July 1. I will also honor our "18+" Sinai volunteers, most of whom have dedicated much more than the Chai חי hours that we are recognizing.

I will present the slate of nominees for the 4 out of 5 open member-at-large positions and all the executive officers for the upcoming July 2021 – June 2022 fiscal year. Your Board has endorsed a full slate of nominees for all elected positions on the Board. This new slate continues to support the diversity and range of experience of the Board. Each member family in good financial standing is given one vote. We want you to attend and exercise your vote. Everyone is invited to attend and participate in the meeting.

Changes to our synagogue Bylaws can only be made by a vote of the congregation at this meeting. The Board recommends two changes to the Bylaws, to allow the Membership Committee the ability to approve new members vs. waiting for a monthly vote by the full Board of Trustees. This allows a much smoother–and speedier–process for bringing new members into our Temple Sinai family.

Below you will find the Agenda, as well as the Slate, and the proposed Bylaw changes. Temple Sinai members may submit additional items for the Agenda to the Secretary, Ignacio Montoya, no later than May 5th, 2021 in accordance with the provisions in our by-laws. Also, additional nominations to the Board of Trustees may be made by petition of five percent (5%) of the Membership Units in good financial standing, which is eight Members, with the petition being filed with the Secretary, Ignacio Montoya, also no later than May 5, 2021. No nominations will be accepted at the meeting. If no other items or nominations have been received by the deadline, the Agenda that follows is final, and the Board-approved Slate stands alone.

If you have any questions/concerns about the proposed by-law changes, board nominations, or any other thoughts prior to the meeting, please email them to president@sinaireno.org and cfo@sinaireno.org. We look forward to seeing and speaking with all of you online soon! Remember, 1:00 pm on Sunday, May 16.

L'shalom,

Michael E. Gorden, President
Temple Sinai Board of Trustees

Call to Order
D'var Torah – Rabbi Zober
President's Address – Michael Gorden
Volunteer Appreciation – Michael Gorden
Congregational Election of Members of the Board of Trustees
Congregational discussion and vote on Proposed Bylaws Change – Russ
Summary of 2020-2021 financial information – Jay Goldberg
Presentation of Budget for Fiscal Year 2021-2022 – Jay Goldberg
Congregation Member Comments
Adjourn

For the Executive Board, two-year terms ending June 30, 2023
(VOTING ON THESE NAMES THIS YEAR):

President – Michael Gorden (incumbent)
1st Vice President – Tova McGilvray
2nd Vice President – Jay Goldberg
Chief Financial Officer – (UNFILLED at this time)
Treasurer – Marilyn Roberts (incumbent)
Secretary – Ignacio Montoya (incumbent)

For Five Member-at-Large Positions, for one-year terms ending June 30, 2022
(VOTING ON THESE NAMES THIS YEAR):

Alexa Foley
Dave Levine (incumbent)
Daniel Moss
Laura Smith
1 position UNFILLED at this time

A. PROPOSED TEMPLE SINAI BYLAW CHANGE ONE:

CURRENT WORDING

Article IV – Membership

Section 1 – Eligibility of Applicant

Any person who is (1) at least eighteen (18) years of age, (2) who is Jewish or in the process of converting to Judaism and (3) does not practice another religion, may be elected to Membership upon approval of her or his application by the Board of Trustees. Special circumstances may be evaluated by the Board of Trustees on a case-by-case basis.

PROPOSED WORDING

Section 1 – Eligibility of Applicant

Any household with at least one member who is (1) at least eighteen (18) years of age, (2) who is Jewish or in the process of converting to Judaism, and (3) does not practice another religion is eligible for membership. Special circumstances may be evaluated by the Board of Trustees on a case-by-case basis.

B. PROPOSED TEMPLE SINAI BYLAW CHANGE TWO:

CURRENT WORDING

Article IV – Membership

Section 2 – Rights and Obligations of Membership

The term "in good financial standing" is defined as meeting all current and past-due obligations, pledges, and commitments made by the member. Past-due obligations are considered being met if the member is making a good faith effort to bring the past due amount current or an agreement regarding payment of the financial obligation has been approved by the Finance Committee. The term "financial obligations" is defined as any amount of dollars and/or, in lieu of payment, services committed to by the member, or another arrangement approved by a member of the Finance Committee.

PROPOSED WORDING

Section 2 – Rights and Obligations of Membership

All members are expected to support the congregation financially by remaining in good financial standing. Good financial standing is defined as meeting all current and past due obligations, pledges, and commitments made by the member. Past due obligations are considered being met if the member has an agreement regarding payment of their financial obligation which has been approved by the Finance Committee.

Alexa Foley – Member-at-Large

Alexa's roots are in Miami with loving but crazy Jewish and Cuban families. After a 15 year pitstop in the Minneapolis area, Reno became her beloved home shortly after the turn of the century. Later, she became Mrs. Foley after meeting Jay Foley at a Reno coffee shop. Today, they are raising their two sons Quinten (who became a Bar Mitzvah Spring 2021) and Jameson (who will become a Bar Mitzvah Spring 2023).

Before becoming Co-Conspirator and Chief Transportation Executive of the Foley Family, she proudly achieved a double major plus minor (Urban Affairs and Communications with a Cross-Cultural Relations emphasis; Human Resources) at St. Cloud State University while working as many hours as she could to pay for it. Her professional past included teamwork and leadership roles with various national and regional professional affiliations. Most of her career was positioned as COO of small to midsize companies. While she enjoyed the success and recognition that she earned in the Midwest, her favorite job title is that of Big Mama Foley.

She stays busy with family/friends and hobbies and is most grateful for the wonderful people she gets to walk through this life with. Temple Sinai holds a special place in her heart as it is where she chose to become a Bat Mitzvah as an adult and where she can raise her boys in our small, but enriched Jewish community. Her faith and religion are very important to her, and Alexa is thankful for this opportunity to better serve Temple Sinai.

Jay Goldberg – 2nd Vice President

Jay Goldberg, and his wife Amy, moved to Reno in January 2016. He works as the Vice President, Internal Audit at Employers Holdings Inc., a workers' compensation insurance company. He has served as Temple Sinai's Chief Finance Officer since 2019 and has also served on several Temple Boards–both in Houston and New Jersey–filling the positions of member-at-large, Vice President, and Secretary. Judaism has always been an important part of his life. He has over 28 years of business experience including starting and leading the internal audit function at various companies, both public and private, for over 18 years. He holds a Master of Business Administration from Bentley University McCallum Graduate School of Business and a Bachelor of Arts degree from Brandeis University.

Dave Levine – Member-at-Large

I joined Temple Sinai in 1972 and have been an active member ever since. Having served as a member of the Board periodically over more than 30 years, I served as Temple President in the 1980s, Men's Club Co-Founder and President (4 times), and have been a member of and/or chaired numerous Committees. In the Nevada Jewish community, I was Chairman of Northern Nevada Jewish Federation, served as an officer and board member of Hillel of Northern Nevada, and was Chairman of the Nevada Jewish Federation

Together with my wife, Peggy (z"l), we raised 2 children at Temple Sinai through Bar and Bat Mitzvah and beyond. I am currently Co-Chair of the Bar/Bat Mitzvah Committee during this time of re-entry to the synagogue building under current guidelines.

Tova McGilvray – 1st Vice President

Tova McGilvray was "Battle Born" and raised in Reno, Nevada, and is a graduate of UNR's writing program. She has worked in Title and Escrow for six years and looks forward to a long career helping people make Reno their home. She trained most of her life as a dancer and thespian, and cut her teeth at leadership managing and choreographing productions. Her experience co-founding the Nada Dada Art Show exposed her to the plight of the residents in Reno's weekly motels and introduced her to community activism. While always identified as a Nevada Jew, it was not until attending Temple Sinai only three years ago that she found a home where she could practice community service from a proudly Jewish perspective. Tova now chairs the Temple Sinai Social Action Committee, sits on the Temple Board, and is the upcoming president of the Rotary Club of Reno Midtown.

Daniel Moss – Member-at-Large

Little did I know that Temple Sinai was only three blocks away from my rental when I first moved to Reno in the dark winter months of 2017. However, it wasn't long before I found myself walking over to Shabbat, on a regular basis. Over the last few years, Temple Sinai helped my wife and me find community and meaning as we adjusted to this beautiful place, and I'd like to give back, as I can. Rabbi Sara married us a few years ago, and now, here, we are in charge of our 1-year-old twin toddlers at the Moss residence! I hope to help bring a diversified vision to the future of our community's social and spiritual programming, and seek to understand and share the wants and needs of all generations in our community.

Laura Smith – Member-at-Large

Thank you for considering me for an at-large position on the Temple Sinai Board. Belonging to Temple Sinai has made Reno feel like home since moving here three years ago. In this community, I have served on the Jewish Practice Committee, volunteered as part of our collective effort to staff the overflow shelter tent on Record Street, coordinated biweekly breakfast deliveries to Our Place, led services, tutored Russell Slamowitz in preparation for his Bar Mitzvah, sang in the High Holiday Choir, and acted in the most recent Purim Spiel. In my prior affiliation with Congregation Shaarei Shamayim in Madison, Wisconsin, I served on the Ritual Committee, the Social Action Committee, volunteered for The Road Home's Interfaith Hospitality Network's temporary family shelter program, ran monthly community meals for the Friends of the State Street Family, and had an active role in the Sisterhood of Salaam Shalom, engaging in friendship and solidarity with our Muslim neighbors. I currently teach math at Clayton Middle School and feel particularly invested in our cohort of active young families, as the parent of a toddler.