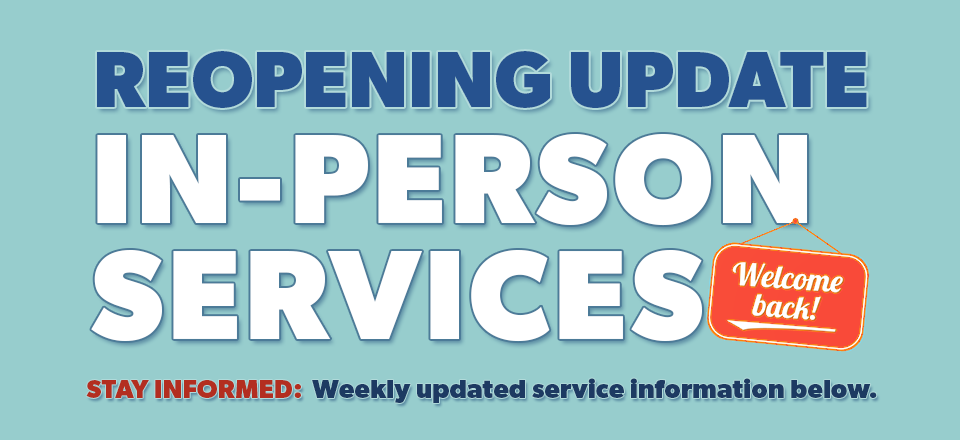 Announcing In-Person Services
As long as our COVID-19 positivity rate remains below the High Risk Level as defined in our Reopening Plan (see the Risk Levels Defined section below), we will be able to meet in person at Temple Sinai for services. Whether we can meet in person or not is subject to change if the numbers go back up. We review this on Wednesdays using data published at Nevada Health Response. After checking the positivity rate each week, we will determine if we can meet in person that Friday. We will then send an announcement to the community that we are meeting–or are not meeting–via our weekly emails and on the home page of our website. Properly worn masks will be required at services. See the "Summary" section below for a quick overview.
If you've come to love our online services through our website, YouTube channel, and Facebook page, DON'T WORRY: we will continue to live stream all our services whether they are in-person or online only.
This past year has presented challenges many of us never imagined. Reopening Temple Sinai is an important step in beginning a process of personal and communal healing, as well as returning to our normal spiritual routines. Reconvening in-person, while our end goal, must be done in a way that protects the health and safety of our congregants. In developing these guidelines, our guiding principle is pikuach nefesh, which requires that we safeguard life and that this obligation supersedes all others.

The guidelines in this document balance our growing need to foster community, see our friends, hug one another, and be comforted by one another's presence against the very serious obligation to protect one another.
Can you believe it is May already? Time is flying by! A year ago, I felt like time was standing still and there was nothing we could do about it. So I am happy that we are moving forward and cannot wait to see all your faces soon. The COVID risk meter is inching down day by day thanks to all of you getting your 1st and 2nd doses of the vaccine. If you have not noticed, we have a Reopening Plan that was approved by the board that outlines a solid platform for all of us to follow and allows us to come back together safely. We know that not everyone agrees on each and every detail – should we wear masks if vaccinated, do we need to social distance anymore, etc. – but the reality is that there is still so much unknown that we will continue to be cautious. We do not want another outbreak if we can help each other avoid it. Many thanks to Jeremy Gelman and Sarah Friedman, chairs of our reopening committee, for their commitment to understanding the science and keeping us together in the safest way possible.
Speaking of May and Spring: do not forget, our Annual Meeting is scheduled for this upcoming Sunday, May 16, 2021, at 1:00 pm. You must be registered to get the Zoom information and be able to vote. At this meeting, we will vote on the next slate of officers, review the upcoming budget, and have some more by-laws to vote on. If you aren't yet a member, you're welcome to watch on our YouTube page or on our website's live streaming page.
Spring has raised the concerns of the uprising in weeds at our beloved Synagogue. This past weekend we had a company come and do a huge weed cleanup job including the "Back 40." They did a wonderful job and it looks great. I am asking and encouraging you all to help us brainstorm ways to maintain what we can in a safe manner. The last thing we want is our property becoming a fire hazard or neighborhood eyesore! If anyone has any connections or great ideas on making some of the space usable – parcel by parcel, I would love to hear from you. I know that the rabbis are dreaming about a small, outdoor worship space. What are your dreams?
As Spring has sprung and we start to turn to the very warm summer nights – it is that time of year that we can gather outdoors for our Shabbat Under the Stars. Speaking of that – Toby Pechner will be here for a "Live and in Person" Shabbat Unplugged Under the Tent event at Sinai on Friday, June 4th at 7:30 pm! Seating will be first-come seating and feel free to bring your lounge chairs and sit anywhere in the parking lot by the tent. We will require masks and social distancing.
Looking forward to seeing you all on Sunday at 1:00 pm… via Zoom!
L'Shalom,
Michael